And that is a wrap for our Belgium Series! I can't believe it took a whole year to write. Though it's not like I traveled anywhere else after going to Belgium, so perhaps it was for the better that I spread it out over the course of a year.
I leave you with my final Belgium post (for now): a summary of cool beer places we visited in Brussels and also a few that we hope to visit if we ever go back!
1. Cantillon
It is impossible to list all of the great places to try Belgian beers, but I'll at least share some of our favorites. If you can, try to visit Cantillon Brewery, which is not too far from the Grand Place. Their hours are very limited, so I recommend booking a tour and then trying all their beers after the tour at the brewery bar. Most of these beers are not even for sale, so this is the only place where you can enjoy these delicious lambics.
My absolute favorite beer was the Kriek Lou Pepe, a 2-year old lambic made with Schaerbeek cherries. It's super fun to try different beers at the bar. There's a real sense of camraderie, and you quickly make friends who whoever happens to be drinking there that day. Click here to learn all about our experience there.

Cantillon Brewery / Brussels Museum of the Gueuze
rue Gheude 56
1070 Brussels (Anderlecht)
2. Moeder Lambic
Bryan discovered Moeder Lambic serendipitously when he was visiting the laundromat near our hotel. It seemed like the perfect place to spend a rainy afternoon while waiting for his clothing to dry. We made a point of doing our laundry at the laundromat next to Moeder Lambic several times, trying different beers each time.
Moeder Lambic has an excellent selection of Belgian beers, especially lambics, which I learned to love while I was in Belgium. Highly, highly recommend this place!

Moeder Lambic
Place Fontainas 8
1000 Bruxelles
3. Le Cirio
If you're a beer geek, you know that the Westvleteren 12 is very often touted as the best beer in the world. It is impossibly difficult to get, and the abby only makes a very, very limited supply. However, there are a few restaurants in Brussels that serve it.
Le Cirio, which is right at the Grand Place, is an old school Belgian restaurant that serves all your classics (hello Moules Frites and Brussels waffles!) in a historic cafe that was once a favorite hangout place for literary giants like Victor Hugo and Alexadros Doumas. They have the much coveted Westvleteren 12, which we enjoyed to the fullest extent with delicious classic Belgian food. Click here to read the full post on Le Cirio.
Le Cirio Brussels
Rue de la Bourse 18
1000 Bruxelles, Belgium
4. Delirium
Delirium is a HUGE bar that seems to take up multiple "units" within a whole block not far from the Grand Place. The inside is crazy, and while we were there (pre-pandemic), it was really, really crowded and full of energy. They have a MASSIVE collection of beers, and it's fun to try various ones.
Delirium Beer
Didn't Make It This Time - But on my "To Try" List
5. de Verzekering tegen de Grote Dorst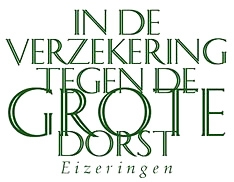 This tiny pub on the outskirts of Belgium in the town of Eizeringen only opens on Sundays, church holidays, and when there is a funeral at the nearby church. It has over 250 beers and was named the best bar in Belgium in 2015.
We learned about this place from another beer geek that we met at the bar at Cantillon over a glass (or bottle?) of gueuze (lambic) or kriek (cherry beers. de Verzekering tegen de Grote Dorst is known to carry a massive collection of top lambics and cherry beers, and thus it's definitely a destination for fans of that style of beer.
We had limited Sundays, and thus were not able to make it out to this most unusual pub. If I go back to Brussels again, it's on my list!
de Verzekering tegen de Grote Dorst
Frans Baetensstraat 45
1750 Eizeringen (Lennik)
Tel. +32 2 532 58 58
6. Brussels Beer Project
Brussels Beer Project is a well-respected local craft brewery in Brussels. Their beers can be found all over they city, and even our own hotel carried their beer. We enjoyed what we tried and were hoping to visit the actual taproom, whether for a flight of beers or a tour. Alas, we ran out of time, but this place is also on the list if I go back!
Brussels Beer Project
188, Antoine Dansaert
1000 Brussels
7. Epilogue
It's a bit weird to be wrapping up this series almost a year to the day that we returned from Brussels to Hong Kong. How could we have known at the time that we would be stuck in a cycle of open-close-open-close for another 12 months . . .
Yet today is very different from a year ago. Bryan just got his first shot of the vaccine today, and I'll get mine next week. Things are nowhere back to normal, but I can sense a bit of hope. Perhaps, just perhaps there's a remote possibility that I really can visit some of those places I mentioned above. Someday. Someday soonish? We can always hope.